Despite the decline of privacy and rise in employee camaraderie the open plan office trend continues to take companies across the world by storm. For breaking office barriers and promoting open space working environments we can thank the likes of Google and Apple who have sang praises regarding significant improvements in their employee's working day.
To some extent we can see why companies have opted for a change in the way their employees are able to work. Open plan environments tear down hierarches where the big bosses, who had once sought after private corner offices with the best views, mingle amongst the heart of the business; their employees.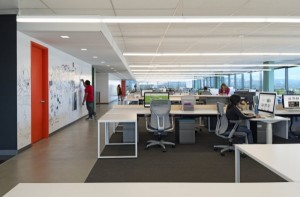 Not only can a company benefit from maximising its space but it can simultaneously minimise costs. Employers and designers across all areas of business had hoped to revitalise a collaborative culture encouraging communication and spontaneous micro meetings amongst staff.
Image Source: Home Designing
Exposure Overload
However, many people now regard this once innovative workspace solution with scepticism. A false sense of productivity breaks through as employees come to believe that they are working for a laid-back and original organisation. In truth though, it seems that this environment means attention spans, productivity and employee satisfaction is damaged.
Employees of the BBC newsroom for example, have a particularly rough time where they not only have to deal with the prying eyes of each other but the 10 million people tuning in to watch the news. Apparently they even have a designated set route when walking to the toilet!
Employees are now faced with distraction overload due to people constantly walking by, the mumbles of distant conversation, & the distraction of those discussing last night's TV schedule next to you as well as your colleagues questionable music tastes. Not only are employees concerned with what others are doing thank to a lack in both sound and visual privacy but they become conscious others are distracted by their own behaviours. After all you've noticed that Joan from accounting has already gone to the bathroom twice this morning and it's only 11.30am; so it likely they're clocking your behaviour too.
In fact, there are a whole host of concerns popping up with the rise of the open workspace:
• Close proximity means more employees are likely to come down with illness, potentially knocking back more than a handful of staff at any one time.
• Employees in open plan offices often report that they are less than happy with their work performance compared to the days with private spaces. Shouldn't we be listening to them?
• Constant interaction and overstimulated employees lead to uncontrolled and excessive social interaction compromising focus.
• All of the negative impacts on staff – and there are a few – affects business as productivity is damaged, output can be reduced due to staff illnesses and questions arise concerning confidentiality issues for clients and colleagues.
Finding a Working Balance
If businesses want this to truly work, and it can, we believe measures need to be taken to ensure work efficiency is improved and employees are happy. Private working areas should be available for starters – and we don't mean glassed walled fishbowls; they don't really constitute as private in our eyes.
Since personal space is considered by a large majority of employees as one of the most important factors contributing to job satisfaction, employers should endeavour to utilise space with movable and operable walls.
With a clear divide in opinions and preferences why not have the best of both worlds in your working environment?
Take a look at the photos below. The brief for this recently completed project required exactly that; a versatile space enabling both private and communal space. Working with Stephen Maggs from NVB Architects we were able to fit quality moving walls meaning that the potential for private spaces function with the same quality aesthetics and sound reduction as their permanent counterparts.
Each panel can be stored away completely (as you can see) to really maximise the available floor space as well as a number of ways to configure the individual acoustic walls panels to ensure full flexibility on how you can use the space.
More Help and Information
It is clear then that open plan and closed offices come with a series of advantages and disadvantages in the eyes of both employees and employers. However, it couldn't be easier to have the best of both worlds and utilise any office. For more information and help on the right product give us a call on 01373 454 577 to speak to one of our team of fill in a contact form here.