Multifold Partitions – Folding Walls and Doors
Space division when a ceiling hung system is not possible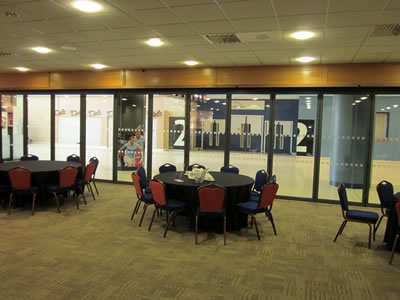 Our multifold partition systems consist of continuously hinged panels and are ideal for use when a ceiling head fixing is restricted or where rapid layout changes are required.
These folding partitions or doors work well in offices, especially those where hot desking is prevalent, hotel meeting and function rooms, plus other buildings in the leisure industry including clubs, restaurants and leisure centres.
The quality of the panels and ease of operation combines the speed of a Fabric Concertina Partition with the quality and 'permanent' appearance of a Moveable Wall System.
For advice on installing one of our Folding Partition Walls request a quote using our online form or call one of our team on 01373 454577.